Two thirds of HR and Hiring Managers say they plan to offer holiday bonuses–and of the third who don't, most plan to offer some other seasonal perks. No one wants to disappoint their employees, but when you're a small business owner, it can be tricky to figure out an appropriate holiday offering that makes sense given your budget. Here are some things to keep in mind–and ideas for spreading cheer the smart way!
What's The Purpose of Your Bonus?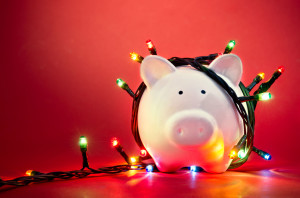 Step one is to decide what you want your holiday bonus to mean. Is it supposed to incentivize employees to work harder? Reward top performers? Or is it simply a gift–a token of appreciation given in the spirit of the holidays? Generally, for smaller businesses, you should be going with the latter–on a small scale, the complications of figuring out how to scale for individual performance metrics, offer consistent bonuses in fluctuating business conditions, etc. is just more hassle than it's worth. Besides–bonuses that are tokens of goodwill encourage employee retention and improve moral.
Budget
It's important to make sure that you stay within a reasonable budget. Base gifts off revenue for the first 10 months of the year to avoid getting overly zealous with Q4 earnings, which are often higher than average. If you overspend, you could be putting the very employees you're trying to reward in jeopardy of losing their jobs. Plus–and this is especially important if your business is relatively new–you're establishing a tradition you'll be expected to uphold. As Harry Dannenberg, chairman of the New York City chapter of SCORE, a national nonprofit organization that offers small business counseling and advice, notes, "being too generous in a good year could make for an embarrassing downgrade in a bad year."
Non-monetary Gifts
Monetary gifts are always appreciated, but not the only way to give–or necessarily the most effective. Non-monetary rewards can boost engagement and productivity, studies show. Paid vacation, paid volunteer hours, etc. are all great options. Be careful with gift items–consider offering options (i.e. movie tickets, gift basket filled with treats, or a gift card) to avoid giving an employee something they have no use for.
….and don't forget you!
Treat yourself–and your business–this  holiday season. Fingertec USA offers biometric security systems, RFID card time tracking, and lots of other security and HR software and hardware at small business friendly prices. Treat yourself to a safer, more organized business–contact us today for more information.